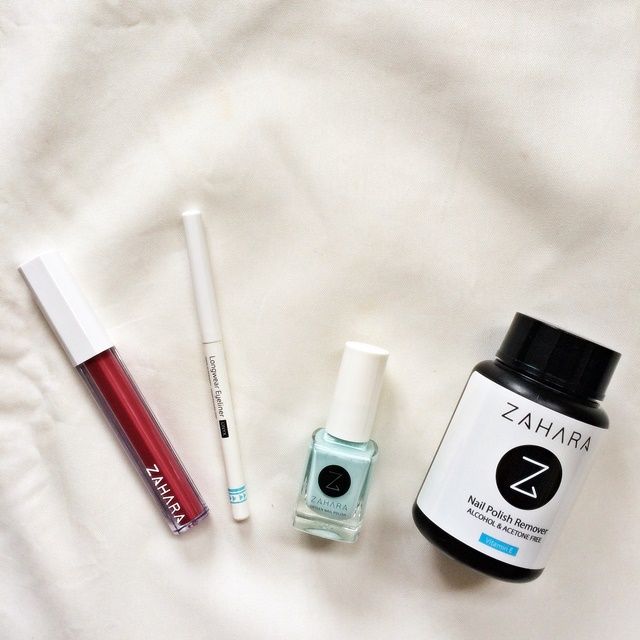 Matte Lipstick (Mystery) | Longlasting Eyeliner (Onyx) | Oxygen Nail Polish (Arctic Queen) | Nail Polish Remover
I'm really loving the matte liquid lipstick from Zahara which is in the shade Mystery. And guess what? The lipstick is Halal too, which is super great! The shade is simply to die for and the application is super easy and it feels creamy to touch . Unlike most matte lipsticks which feels dry, my lips actually feels pretty moisturised with the Zahara lipstick and my lips didn't seem flaky.
I'm really bad at drawing eyeliners because liquid eyeliner pens seems scary when placed near my eye. Am I the only that feels that way? I would just rather line my waterline with a cream eyeliner. As the eyeliner have a pointed tip, applying eyeliner have been slightly easy for me. Having a longlasting eyeliner is great because I rarely do touch ups when I'm outside.


Since most nail polish available on the market isn't Muslim friendly, I can only apply it when I'm having the time of the month.As the ablution wouldn't be complete in the sense that water can't touch my nail but recently, Zahara launched their wudhu-friendly Oxygen Nail Polish. Finally a product that meets the needs of Muslim women because the oxygen formula allows water and oxygen to pass and seep through the nail polish in order to reach the nail.
With the nail polish being halal, I can rock nail polish at any time of the month that I want. But then, removing it is always a chore and it takes time.

However, nail polish remover have made it easier clean it in just a few turns of the finger in sponge inside the bottle. To add on, the nail polish remover from Zahara is also halal and alcohol free. Now, cleaning the nails are much faster and it can also be done on the go too since it's of a perfect size to store in the bag.
To find more about the products, do check out Zahara through their website and also follow them on their instagram!
Instagram :
@lovefromzahara
Website :
www.zahara.com
With Love,
Faraahamylea